Pools
Having your own private little "oasis" in your back yard can be very rewarding.
After a long days work, or having a little special family time, these are all things you can enjoy by having your own swimming pool at home. Also, when the kids get older, it's a great way to keep them around. They will want to invite their friends over to your house. This way you can have them around instead of always leaving to go to their friends house. Your house is now "the place to be".

When considering building a new pool you need to think of more than just the new pool itself. There are many factors that go into building a new pool. Design, existing landscape, access way, permits, electrical, decking, fencing, to name a few. It's not just digging a hole and adding water.

Precision Pool and Aquatics LLC can make the whole process easier for you to understand. We can look at the property, make suggestions as to what would work best for you, educate you in the process of building a pool, and of course, design and build your backyard "oasis" for you. We have years of experience building all three types of pools. Gunite, Fiberglass, and In Ground Vinyl Liner. All three pools have advantages and disadvantages. We would be glad to explain the differences. Call us at (203) 998-6399 or Contact Us to make an appointment for us to come out and give you a FREE Backyard Evaluation.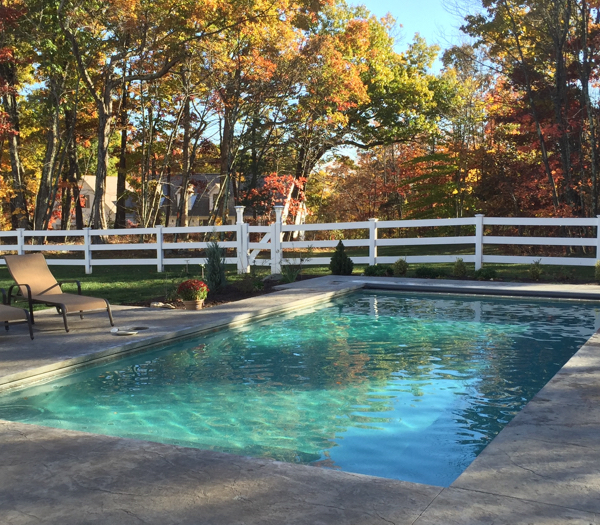 Fiberglass Pools
Escape from the world without leaving home.
Years ago they only had a couple fiberglass pool designs and colors to choose from. Now, there are many designs and an unlimited amount of colors available. We visited the Viking Pool factory in West Virginia to see just how they are made. They build the best Fiberglass Pool in the industry.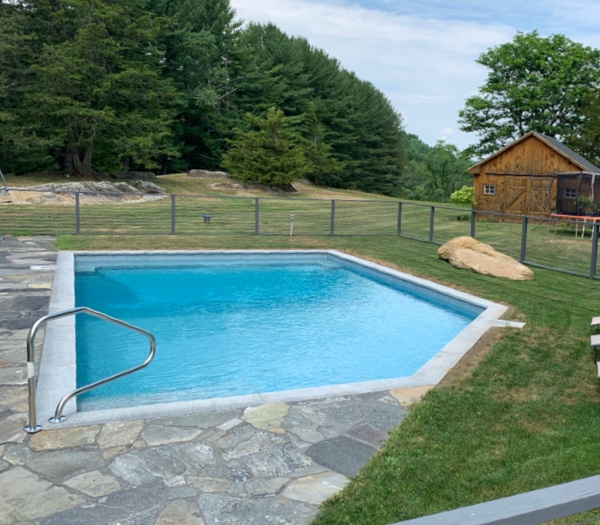 Vinyl Liner Pools
Better engineered steel pools.
Precision Pool and Aquatics LLC installs both steel and Polymer In Gound Vinyl Liner Pools. After years of experience working with different manufacturers products, we chose Latham pool products as the highest quality in ground Vinyl Liner Pool manufacturer to sell. Latham top quality steel wall/vinyl liner swimming pools are available in over 200 shapes and sizes.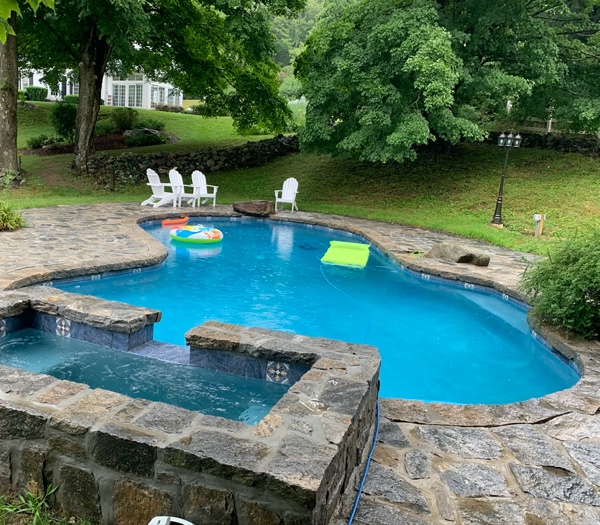 Gunite Pools
Simple, Elegant Design.
Gunite construction offers the homeowner the ability to be very creative in their personal design. Since there are no molds or set plans the homeowner can work with the designer and design their own custom pool. While building a Gunite pool is more involved than other types and also more costly, consequently to some people the ability to design their own pool is worth the extra cost.
Pool Services
Call us at (203) 998-6399 or Contact Us for a FREE Backyard Consultation.
Precision Pool and Aquatics LLC offers many Pool Services: Cleaning, Vacuuming, Weekly Service, Pool Repair, Pool Heaters, Pumps, Filters, Salt Systems, UV Sterilization, Ionization, Pool Lights, Pool Leak Detection, Pool Renovation, etc.. There are so many things we could list. If you have a pool, we can service it, fix it, renovate it and instruct you how to take care of it.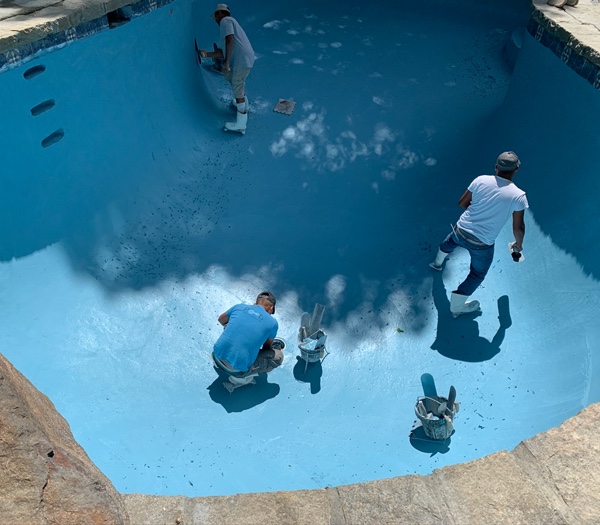 Gunite Pool Renovations
Precision Pool and Aquatics LLC specializes in Pool Renovation
We can repair or remodel any existing swimming pool. From a minor face lift to complete reconstruction you can have confidence that your pool will be taken care of like it was our own pool. We take pride in everything we do. Client satisfaction is the most important thing we work on all the time. If you have a satisfied client, your business will succeed and grow.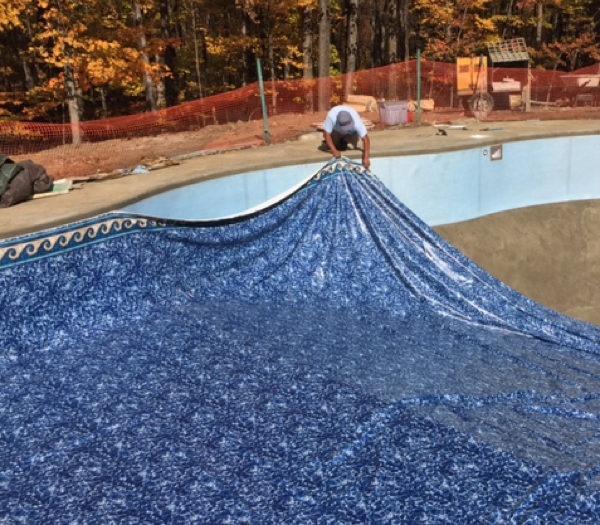 Vinyl Liner Replacement
Your pool will look NEW again in a very short time.
Replacing your old faded or torn Vinyl Liner can seem to be a scary thing BUT it is really a very exciting time! Today there are so many beautiful liner choices to pick from. Precision Pool and Aquatics LLC can help you decide which liner would work best for you. This also is the time when it's a good idea to test the plumbing lines and also bring your pool up to code with regards to the main drain in the bottom. If you have an older pool with one main drain it is recommended to bring the pool up to code and add a second drain.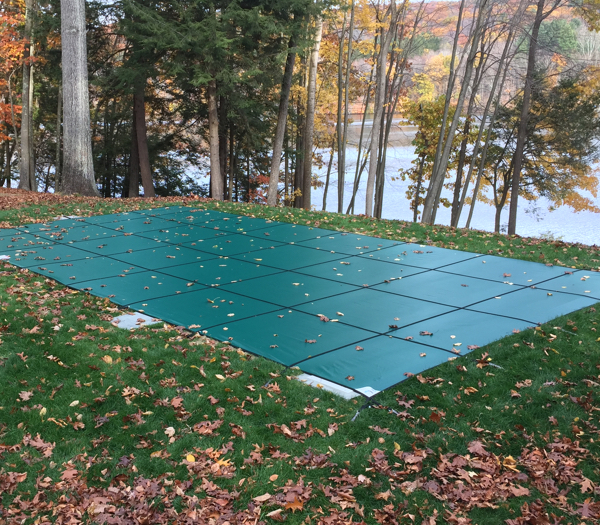 Yearly or Annual Service Contract
Includes complete Opening of the pool/spa, including removal, cleaning and store of your winter pool cover. Connecting and installation of existing pool/spa equipment. Heater will be serviced and cleaned. Also includes necessary cleaning visits to remove winter debris and to get pool ready for Weekly Service. Opening chemicals are included. Weekly service visits are then provided for a set period of time on a specific day. Closing the pool in the fall, Winterizing pool equipment and lines, installation of winter cover and special winter chemicals. Total service package that is priced based on location, size, length of service contract. Also available; Opening Only, Weekly Service, Closing Only and Winter Maintenance.
Hot Tubs and Spas
Clearwater
Precision Pool and Aquatics offers the most reliable, green technology, beautifully designed hot tubs in the industry. Clearwater Spas have something great to offer. Below are the lines of hot tubs and spas from Clearwater for you to check out.